Diadema Apartments in the Town is a complex of two modern apartments located right in the heart of Naxos Town !
The building is originally 100 years old and was 100 % renovated in October 2019. It is stonebuilt and belonged to my husband's family since forever.
The 1st apt has one bedroom; two bathrooms; the 2nd is ensuite; one living room which has two stone made sofas which turn into 2 single beds ( with mattresses); and finally a kitchenette. There is aircondition in every room and 2 TVs (NETFLIX).There is a private patio with furniture in each room.
The 2nd apt has 2 bedrooms; 2 ensuite bathrooms; a living room with a sofa that turns into a double bed and a kitchenette. There ara aircons and TVs in each room (NETFLIX). There is a private patio with furniture.
The property is built under the nose of the Old Venecian Castle Town of Naxos ( 100metres away). It is only 150m. away from the Old Town of Naxos and 200m away from the former Oursoulines' School & Museum; the Catholic Church and the Archeological Museum. The port is 400m. away. The bus and taxi station is at the port. The famous Saint George organised beach is just 300 metres away. Everything one might need is within a few minutes walking diastance! Shops; tavernas; restaurants; cafes; bars; puplic hospital; pharmacies; grocery stores; puplic parkings; private parkings; bus stops etc.
Temple of Apollo is obvious from the moment the ship reaches the port; only 7′ away on foot.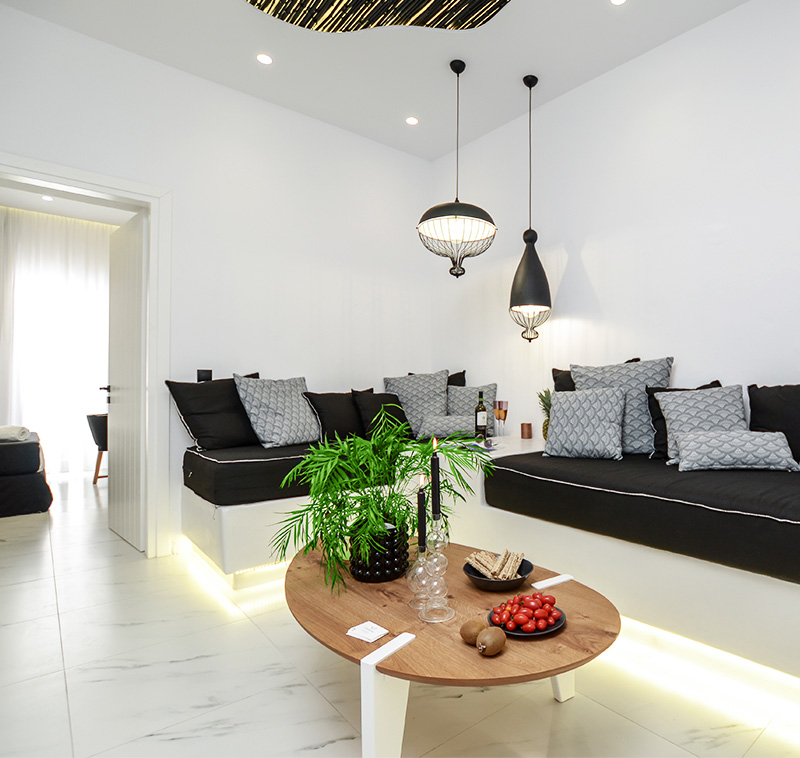 Diadema Apts in the Town is a combination of old and fresh; of minimalism and functionality and last but not least they were renovated with lots of love and consistence. They are suitable for families; groups of friends; couples and they are ideal for winter and summer holidays !
We really hope that you will apreciate the property as we rebuilt it only for you to enjoy!
Ariadne, in Greek mythology, was the daughter of Minos, King of Crete,and his queen Pasiphaë, daughter of Helios. In Hesiod and most other accounts, Theseus abandoned Ariadne sleeping on Naxos, and Dionysus rediscovered and wedded her. In a few versions of the myth, Dionysus appeared to Theseus as they sailed away from Crete, saying that he had chosen Ariadne as his wife and demanding that Theseus leave her on Naxos for him; this has the effect of absolving the Athenian culture-hero of desertion. The vase-painters of Athens often showed Athena leading Theseus from the sleeping Ariadne to his ship.
With Dionysus, she was the mother of Oenopion, the personification of wine, Staphylus (related to grapes), Thoas, Peparethus, Phanus, Eurymedon, Enyeus, Ceramus, Maron, Euanthes, Latramys and Tauropolis. Her wedding diadem was set in the heavens as the constellation Corona Borealis.
Ariadne remained faithful to Dionysus but was later killed by Perseus at Argos. In other myths she hanged herself from a tree, like Erigone and the hanging Artemis, a Mesopotamian theme. Some scholars have posited, due to her thread-spinning and winding associations, that she was a weaving goddess, like Arachne, supporting this theory with themytheme of the Hanged Nymph (see weaving in mythology). Dionysus descended into Hades and brought her and his mother Semele back. They then joined the gods in Olympus.
A real "diadem", which crowns your dreams for this summer, there, in the heart of Naxos Town … waiting … for you!